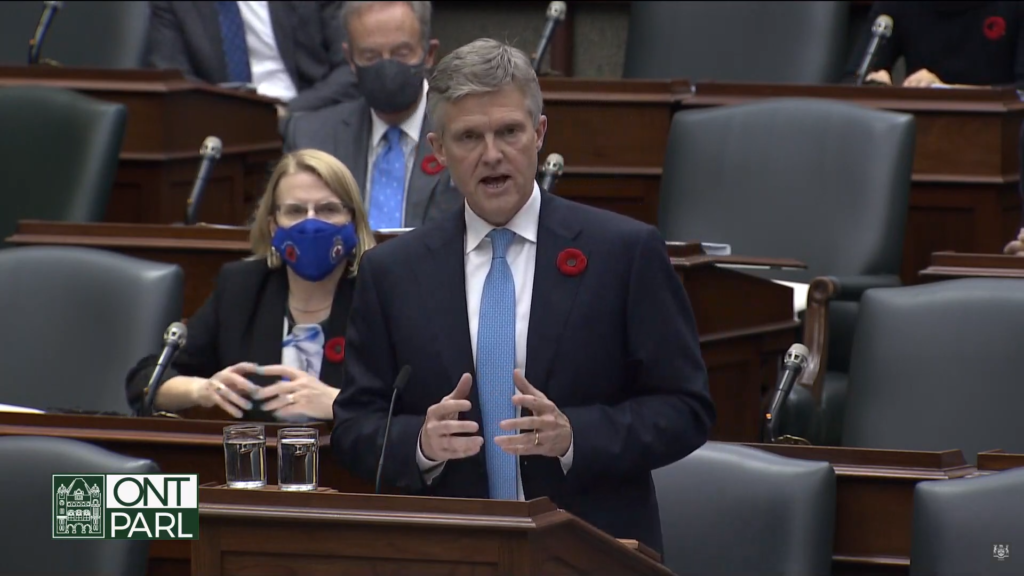 The Ontario government has unveiled its 2020 budget, which includes plans to invest more money into mental health support for post-secondary students and a tuition freeze for the 2020-21 academic year. The budget, released Thursday, did not reveal any further cuts to the Ontario Student Assistance Program (OSAP) for the upcoming year.
The Ontario government aims to invest $19.25 million into mental health support for post-secondary students in 2020-21, an increase of $3.25 million from last year. The funding will be used to increase the number of mental health workers and programs at colleges, universities and Indigenous institutes, according to the budget.
The government also announced that it would freeze tuition fees for the upcoming school year. This comes after the province cut tuition fees at public post-secondary institutions by 10 per cent last fall.
The budget does not mention any further changes to OSAP. The province plans to expand the program to include students enrolled in ministry-approved micro-credential programs, which are short, concentrated courses designed to enhance a worker's skills and professional development, according to Forbes.
In a short blurb, Finance Minister Rod Phillips said that the province plans to maintain "financial sustainability" of the OSAP program, but the budget did not reveal whether that would involve any further cuts. This comes after the province slashed OSAP funding and eliminated free tuition for low-income students in 2019.
Ontario to support post-secondary schools with infrastructure, COVID-19 measures
The province also promised to work with post-secondary institutions to help ensure a "safe start" to the 2020-21 academic year. The 2020 budget outlined a $466-million investment in capital grants over three years to improve facilities at post-secondary institutions. The investment will start in the 2020-21 academic year and will be used to modernize classrooms and improve environmental sustainability while keeping students safe on campus.
"This partnership has helped establish best practices for limited in-person teaching, including COVID-19 testing for students in quarantine as a result of travel outside of Canada," wrote Phillips in the budget.
Ontario also said it will be working with post-secondary institutions to meet federal requirements for international students. To date, only 27 universities and colleges have been approved to reopen for international students to study in Canada.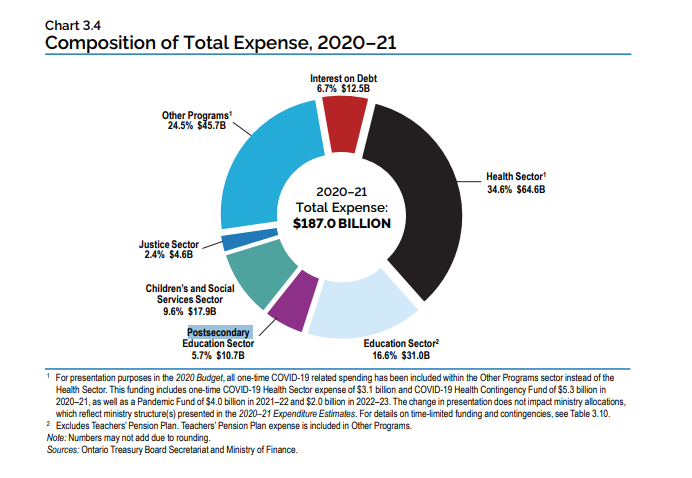 Post-secondary funding small portion of total provincial spending next year
The province plans to invest $10.7 billion into the post-secondary education sector in 2020-21, approximately 5.7 per cent of its total budget for that fiscal year.
The province also projects an increase in funding for the sector in the next two to three years, anticipating an increase from $10.5 billion in 2019-20 to $11.2 billion in 2022-23.
"For our government, and for the people of Ontario, the responsible path forward will be to create the conditions for our economy to grow, make Ontario open for business and once again become the economic engine of Canada. We will need growth that creates jobs, encourages entrepreneurship, empowers innovation and attracts employers from all around the world. That is how Ontario will recover from the pandemic," wrote Phillips.