Food sharing sites sometimes emptied multiple times a day by residents in need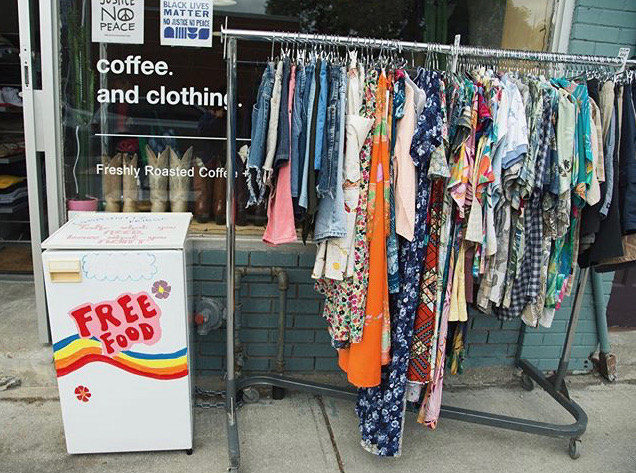 Toronto friends who started putting free food in fridges across the city during the summer say it's already proving hard to keep up with demand — but they'll do their best.
The fridges, which are for anyone needing food, are located outside Ten restaurant on College Street, as well as Paintbox Catering and Bistro on Dundas Street East, Black Diamond Vintage on Queen Street West, The Iceman on Adelaide Street West, and Coffee and Clothing on Pape Avenue, according to Community Fridges Toronto's Instagram.
Possibilities of fridges in other areas, such as North York, are being discussed, said Jalil Bokhari, who co-founded the community initiative with Julian Bentivegna, who owns Ten. But first they're working with a design company to try to winterize their existing fridges.
The goal? "Making sure that we can also continue this," said Bokhari. "(That) it's not a kind of a flash-in-the-pan project." 
Their motto is "take what you need, leave what you don't." Bokhari and Bentivegna created the venture in July to combat the city's food insecurity problem. With the help of volunteers and donations from around the city, the fridges are filled every day with nutritious food — free for the taking. 
Community volunteers co-operate in managing the fridges, said Bokhari, while he provides the direction needed to maintain the fridges. Anybody can get in touch about becoming hosts for the fridges or donating fridges. Still, Bentivegna's hope is the government will eventually step up and initiatives like community fridges won't be necessary. 
"It's such a rooted problem and we're just treating a symptom right now," he said. "We need the Canadian government to step up and provide more funding into social programs."
Bokhari was inspired by a friend who organized several community fridges in Brooklyn, N.Y. Then, when Bokhari saw the number of tents for people experiencing homelessness growing across the street from his home, he decided it was time to launch his own community fridges.
"It's been really nice to see these kind of community-run programs where people are trying to just do something to help each other, redistribute their own privileges, their own wealth," he said. "We haven't had the pleasure (of this level of community involvement) in the past." 
He brought up the idea with his co-founder and soon they had their first fridge up outside Bentivigna's restaurant. Bentivegna thought the idea was worth trying because he was already frustrated with the lack of assistance in combatting Toronto's food insecurity problem. 
"I had been thinking about it for a while too, so I said 'You know what, I've got two fridges downstairs. Let's just put them outside, put a sign on them, connect them to power and see what happens,'" Bentivegna said.
Rebecca Bidner-Goldstone got The Iceman, a large distributor of ice in the GTA, involved in hosting a fridge — her husband Jake Silva co-owns the company.
"Food justice and access to good healthy food is a really important way that we can empower people," said Bidner-Goldstone. "Mutual aid is one of those things that everybody and anybody can do." 
People have donated everything from their graphic design skills to their cars to their time, she said.
Gabby Ondrade, a co-owner of Coffee and Clothing — which hosts a community fridge in front of the shop — was so moved when a donor arrived with both a fridge and groceries to stock it that she cried. 
"That was really memorable for me because it was all just like, first, we're getting a fridge and learning about this amazing organization, and then this guy is just donating a bunch of things and we didn't ask him to," said Ondrade. 
Joy Gough first started volunteering with the initiative after seeing their volunteer callout on Instagram. Since then, she's been a regular volunteer helping to clean the fridges, fill them with food and do pickups from a local food bank.
Gough wanted to get involved because she saw a need for the fridges: they're emptied daily, sometimes every couple of hours. She liked the idea of mutual aid and caring for each other while community building at the same time. 
She said that it brings together people from different walks of life — people who she wouldn't expect to hit it off are often chatting at the fridges, connecting and building genuine relationships. She recalled one time where a man who took some food also noticed that the freezer door kept opening, so he went to his house nearby and brought back tools to repair the door seal. 
"It's great because we're all taking care of each other," Gough said. "There are lots of people saying hello or that they'll come back later and the next thing you know the two of us are sitting on the sidewalk, rearranging and restocking everything." 
Still, Gough shares Bentivegna's sentiment that these programs should be the government's duty. 
"As much as we're in awe of the community support, we still need to promote the idea that we need actual change and legislation in place towards eradicating food insecurity and homelessness," he said.
As they continue to aid these communities, Bokhari and Bentivegna hope for a future where necessities like food and shelter are far more financially accessible than they are now. 
"(This is) not a final solution at all. This is just something that we can do as communities to help each other and at least let it exist," Bokhari said.
"Food has to be a right."