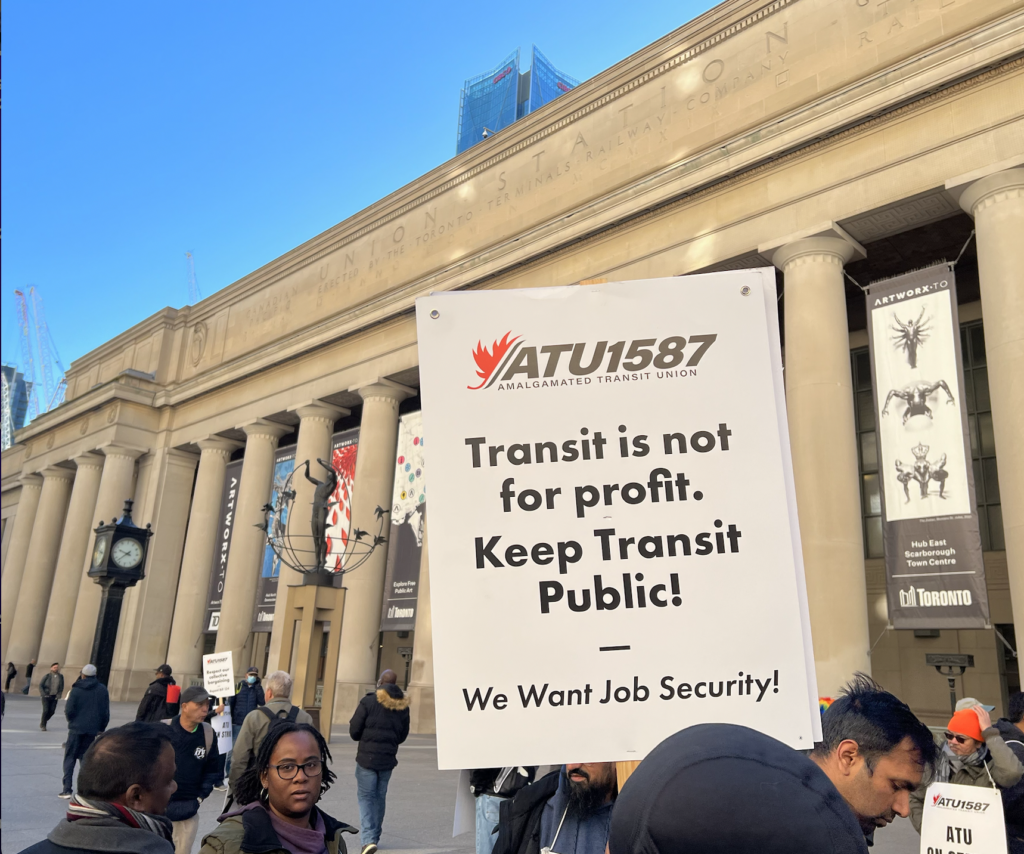 Listen to the audio version of this story:
More than 2,000 GO Transit workers are striking this week after seven months of negotiations failed to result in a new contract. Go Transit employees have been operating without a collective agreement since June 1.
Protesters gathered around Scotiabank Arena Monday morning within sight of Union Station — where bus service shut down and left commuters searching for other options.
Metrolinx and The Amalgamated Transit Union have been at the table negotiating since April without agreement. The union says job security is a major concern, and it wants to maintain more full-time permanent employees. Currently, there is nothing stopping Metrolinx from contracting outside companies to replace existing workers. The union says this has led to job loss for their members.
"They told us we didn't have a good gauge of our membership. I think based on today's turnout we have a really good gauge on our membership," said ATU vice president Manny Sforza.
"This government needs to react and give labour what it rightfully deserves and that is fair collective bargaining and not threaten or bully us with notwithstanding clause. This is an attack on the citizens of Ontario," said John Di Nino, president of ATU Canada
On the weekend, ATU tweeted "No Deal" and signalled its strike would begin on Monday at 12:01 a.m. TU Local 1587 represents more than 2,300 Metrolinx employees and retirees across the Greater Toronto and Hamilton Areas, including bus operators, station ambassadors, office and professional staff, mechanics, plant and fleet maintenance workers and transit safety officers. GO trains are operating as usual, as its members are part of a different union.
Sforza says Metrolinx has made verbal promises in response to the union's demands but has yet to follow through on paper. The union wants a written agreement before it suspends its strike.
"It was crystal clear to us, they did not want to reach an agreement," said Sforza, who noted that the union plans to file a bad-faith bargaining complaint with the Ministry of Labour against Metrolinx. He said this is the first time in the bus operators' 55-year operating history that they've gone on strike.
"We met Sunday morning, 13 hours before a strike deadline," he said. "Metrolinx proposed four more weeks of consultation with our members. Outrageous. In all my years doing collective agreements I have never seen anything like that."
A spokesperson for Metrolinx said via email it has been involved in negotiations for seven months in good faith, and that Metrolinx offered over 67 improvements to its collective bargaining agreement — including providing new hires the same level of job security as existing staff.