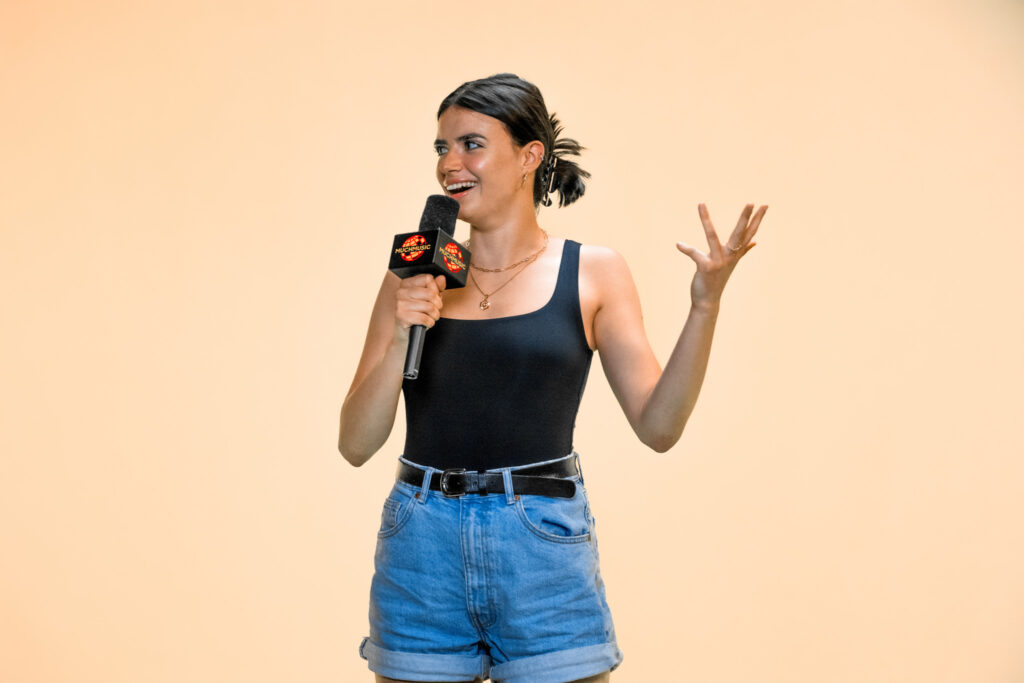 MuchMusic is back, but this time on TikTok. MuchMusic, which had its official launch on July 7, partnered with the app TikTok to become a "content-driven digital first network."
There are six digital artists and creators, known as VJs, who are set to produce content for the network. On The Record spoke with Georgia Kolev, one of the VJs at MuchMusic and a recent graduate from Ryerson University's sport media program, about her experience working for the iconic network.
This interview has been edited for clarity and flow.
On The Record: What does a typical day working as a MuchMusic VJ look like?
Georgia Kolev: It's definitely a little bit different [every day]. We're working remotely right now during COVID times, but a typical day-to-day for me would be just producing, editing and curating content. We're working from home right now so we'd be posting on our social media.
As you know our brand is just digital so we're all over TikTok, Instagram, YouTube, Twitter, that sort of thing. When I get up I pretty much browse through all the music news that's going on that day or whatever's interesting. Then we'll either make our own original content around it or we'll curate some content. We'll also make some graphics, TikTok videos, that sort of thing.
OTR: How did you become a VJ?
G.K.: I actually had an internship [at blogTO] during my fourth year at Ryerson University, I was one of their video hosts. During my internship, I was creating stuff on blogTO and another brand, Freshdaily. I actually got reached out to [by MuchMusic]. They noticed my videos from there and from TikTok…and they reached out to me.
The group that actually [reached out] was BarDown on TSN. They were looking for fresh new content creators to revive MuchMusic. They reached out to us, created the group and that's how we all started.
OTR: What did you study at Ryerson and how has your program prepared you for your journalism career?
G.K.: I graduated from RTA, but more specifically, I was in the sport media program. I realized during my time in school that I didn't necessarily want to just limit myself to the sports world and that entertainment, music [and] pop culture were definitely more up my alley and what I was interested in.
I ultimately ended up branching off during the internship and did something with blogTO which wasn't sport-specific, but regardless, everyone in RTA pretty much learns the same skills and understanding for the media industry.
I think that in general, just growing up in the digital age of technology and having that background and education in media has prepared me. Not only from a technical standpoint but from a creative one as well. The skills necessary in the workplace are very much similar to what we practise at school already.
We always got hands-on experience from everything, such as working in the studio, production, learning how to speak in front of a camera, producing podcasts, managing social media accounts and creating your own original content. So from that standpoint, you're still creating your own content and learning how to manage all of those projects at once.
That definitely translates and is very much similar to what I do on a day-to-day basis at work. But one of the most valuable aspects of the program is the fact that in fourth year, you can go into an internship and make connections in the industry and kind of see what you like and don't like. 
OTR: What is your favourite and least favourite part of your role as a VJ?
G.K.: I think my favourite part is the people I work with, they're amazing. I love getting to connect with audiences on a day-to-day basis, talking to music artists has been really cool too. Right now, my least favourite is not being able to work in an office with my co-workers. Because of COVID-19 we are working remotely.
OTR: MuchMusic relaunched with TikTok as a digital-first platform. Do you think that the future of music will be digital?
G.K.: I believe so. Before it was television and now it's digital. Sure, [digital] can evolve into different apps and platforms, but I think in terms of it being overall a digital base, I think the future of music is digital. All the stuff that we're streaming and on all the platforms, TikTok especially right now, is so prevalent. But as you know, apps can evolve and they can change in the future.
OTR: What is one thing you learned from your experience at MuchMusic that you would like to share?
G.K.: I've learned so many things already since I've been here which is crazy. I just learned that whatever role you're in or whatever you're doing, content creation-wise, you just have to enjoy it to the fullest. If you want to pursue something, pursue exactly what you want to do.
Be yourself, be authentic and don't worry about what other people necessarily think you should be portraying yourself as or how other people are going to view your work. You should always go in with it wholeheartedly and just work hard at what you do and it'll always end up looking better than you expected.