Restaurants that rely on foot traffic from Ryerson face a difficult future amid COVID-19 and the school's decision to remain remote next semester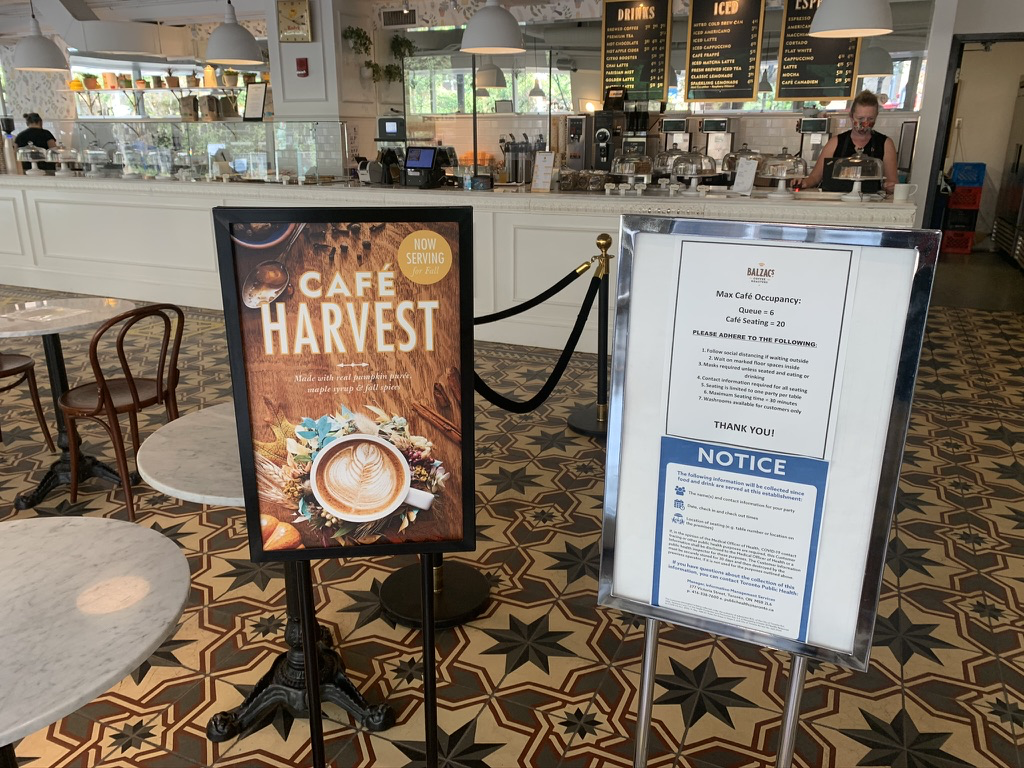 After COVID-19 forced Ryerson University to close its campus and move almost all of its classes online, local businesses said they lost approximately 70 per cent of their income as thousands of students and employees stopped coming downtown.
Given the school's recent decision to continue operating remotely next semester because of the pandemic, this winter looks especially bleak for restaurants on campus and nearby, who have already struggled to keep their doors open.
Balzac's Coffee Roasters, which is located in the heart of campus, typically served long lines of people before the pandemic hit. These days, there are only ever a handful of customers inside. "We used to have nine shifts everyday, now we have two," the coffee shop's manager Susan Swain said through her mask.
Elizabeth Gould, a Ryerson student studying English literature, is one of the few students still working part-time for the coffee chain. She attends online classes from home in the morning and comes to work in the afternoon. "It feels less stressful," Gould said, given that she no longer has to travel back forth between classes and work as much.
Balzac's Ryerson location saw bigger revenue losses than the chain's other outlets because of its heavy dependence on Ryerson students and staff, said Swain, "Any cafe attached to an institution is having a harder time."
Before the pandemic, things were looking great for Patties Express, a Jamaican fast food joint located near Elm Street and Yonge Street. "We're going into seven years now and we had just opened a second location last year," said Aziz Mostafa, the restaurant's manager.
When COVID-19 hit, Patties' business improved temporarily as customers began stocking up on essential supplies, which happened to include patties. Mostafa and the restaurant's owner Daniel Cheng were doing double shifts. "People were stocking the toilet paper, people were doing the same thing with the patties," he said. "People would come in and stock like four or five dozen (patties)."
However, after that initial rush of buying, its revenue decreased by 80 per cent, Mostafa said — a drop he associates with the loss of business from Ryerson and University of Toronto students and staff who are now studying and working remotely.
To Mostafa, the deserted Toronto downtown reminds him of St. Catharines, his much quieter hometown. Ryerson students were a major source of business for Patties Express. "During exam periods, they always come to the store, because it's a very quick thing," he said. Mostafa speaks fondly about his interactions with students and their role in Patties' success.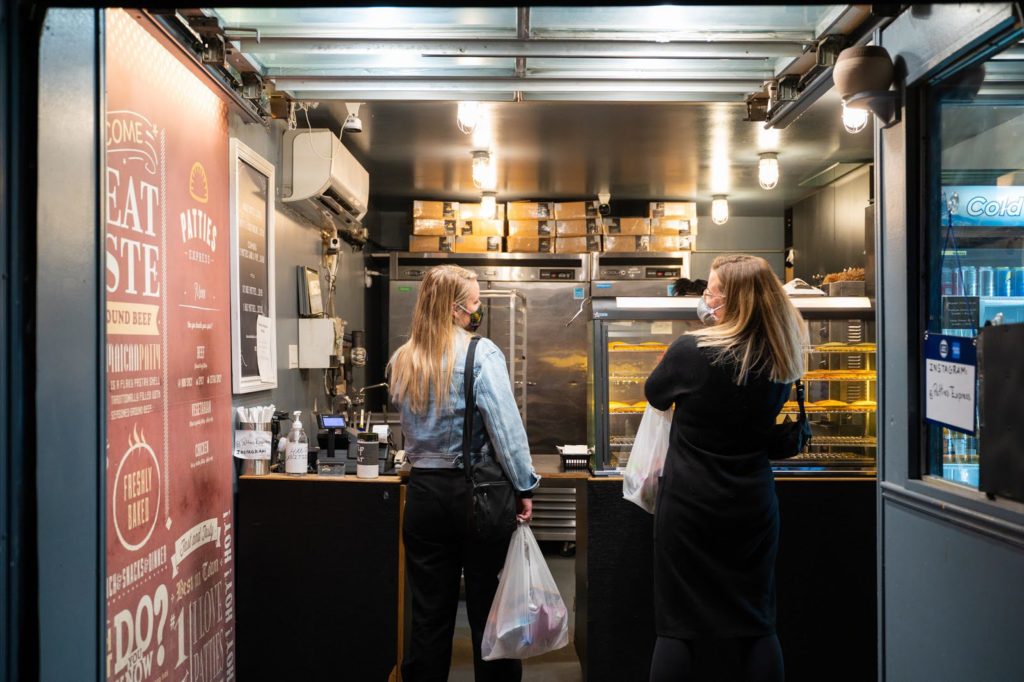 Although business has since recovered a little at Patties Express, it remains 60 per cent lower than pre-COVID-19 levels. These difficult times have made Mostafa appreciate his customers more. He is hoping for the return of students to campus sooner rather than later.
"Ryerson plays a really important part in Patties Express growth, and hopefully, it will continue to remain that way," said Mostafa.
After Ontario declared a state of emergency, Basil Box temporarily closed all of its restaurants, including the location it rents from Ryerson. Before the lockdown, 30 to 35 per cent of its business came from the university's community.
Basil Box took advantage of the government rent subsidy that paid 75 per cent of its rent from April to September. As Basil Box's landlord, Ryerson had to apply for the subsidy on the restaurant's behalf.
"We greatly appreciate Ryerson's willingness to apply but (we're) still financially straining as we don't have the sales as we did before," said Tracy Lam, the general manager of Basil Box Ryerson. It opened back up in mid-May only to discover that its business had almost disappeared.
"When we first reopened, there were hardly any people walking outside on the streets," said Lam. "We were barely making any sales and it was a long struggle to slowly build back the business which is still continuing today."
Basil Box, a chain that serves southeast Asian cuisine at 17 locations around Canada, reinvented itself during COVID-19. When it was forced to close down during the lockdown, it started a grocery series and meal kits. Customers can "purchase and cook kits at home to reduce the risk of getting the virus," said Lam. Basil Box also started participating in the outdoor food festival including the sixth Annual Toronto Mac & Cheese festival where it won first prize from judges including Mayor John Tory.
Reduced student traffic forced Balzac's Coffee to reduce its menu. "We have cut down everything. We have less pastries," Swain said. It did better during the summer as the patio attracted more customers, but soon it will be closed once winter starts.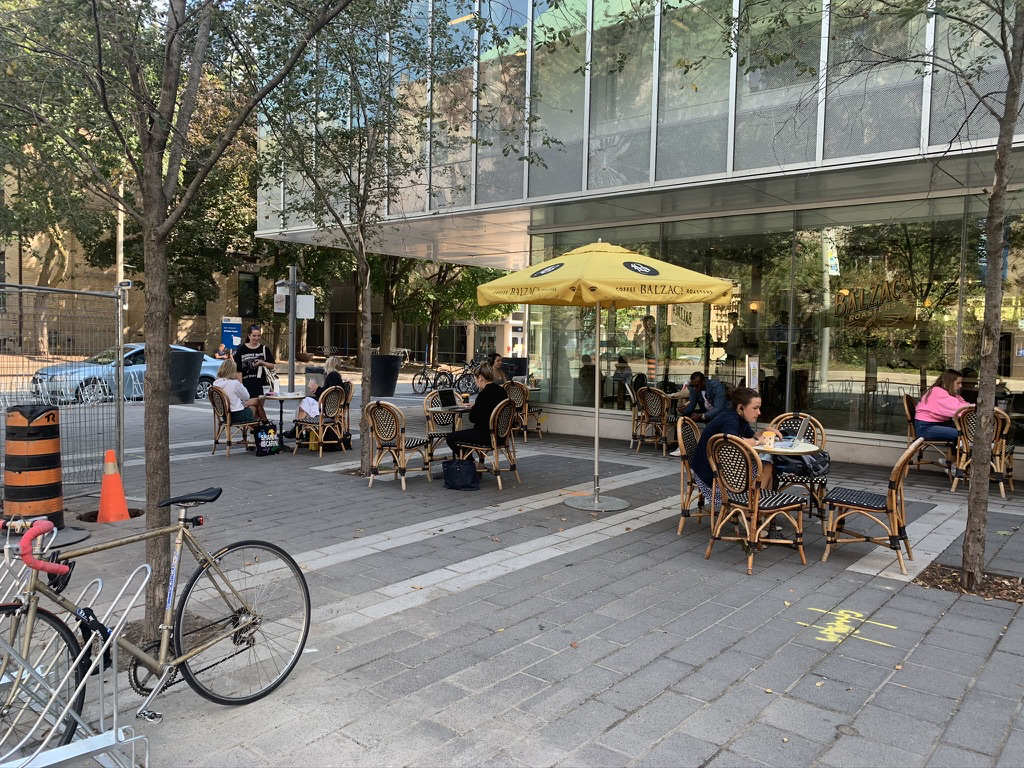 Patties Express only does takeout. During its struggle to survive amid the pandemic, the Jamaican restaurant decided to begin offering delivery through Uber Eats.
"We never had delivery before," said Mostafa.
As Uber's ride sharing business suffered during the pandemic, the company tried to compensate by leveraging its food delivery business. Patties Express took advantage of the Uber Eats program, which offered free activation and a tablet, allowing it to save $350. In exchange, the restaurant pays a 30 per cent commission to Uber Eats on every delivery. "It is a very small percentage of our total income," said Mostafa.
With Ontario in the midst of a second wave of COVID-19, and Ryerson's recent declaration that the school will remain online for the winter semester, these businesses face an uphill battle over the coming months.
"Overall, our business is still down, but it's a battle that we are continuing to fight and we are seeing increases as time goes by," said Lam.