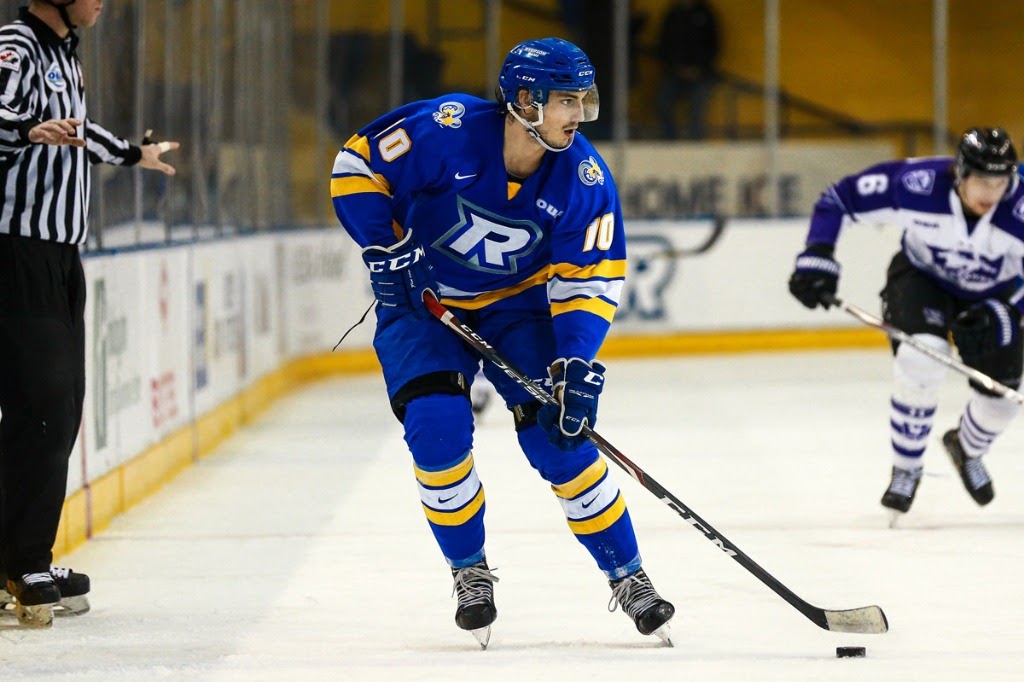 The Rams men's hockey team lost 5-3 to the Brock Badgers in their first home game of the season at the Mattamy Athletic Centre Thursday night.
The game started out in the Rams favour as they led in the first period. But the Badgers won the game thanks to their late offensive surge, scoring two goals in the last minutes of the game.
"It's been so long for these fans to get some taste of hockey," said Rams commentator Zach Finch.
It was the first league play for the Rams in almost two years, after Ontario University Athletics shut down play due to the pandemic.
The Rams built significant momentum in the first period, scoring two goals — just 11 seconds apart — within the first 12 minutes of the game.
First-year forward Elijah Roberts simultaneously scored the first goal of the season for the Rams and his first goal with the program. Roberts played five years in the OHL, for the Niagara IceDogs and Kitchener Rangers.
Roberts was not the only rookie who played in the season home opener. Ryan Wells, Chris Playfair, and Kyle Bollers also made their debuts for the squad.
Eleven seconds after Roberts's goal, third-year forward Jesse Barwell sent the puck past the Badgers's goalie, doubling the lead for the Rams. Third-year forward Patrick Fellows and fourth-year forward Steven Harland were credited with assists.
The Badgers were behind for the most of the first period until near the end when they scored what seemed to be their first goal.
The puck was in the air and momentarily touched a Badgers player before eventually falling into the net.
The Rams got lucky when the referees ruled that it was not a goal. But it was becoming clear the Badgers were building pressure.
The lead was sliced in half when second-year winger Christian Girhiny opened with Brock's first goal in the second period.
Less than a minute later fourth-year left-winger Ayden MacDonald scored another one for the Badgers, which tied the game at two goals apiece.
The Rams won the lead back on a power-play goal when second-year forward Domenico Commisso brought the count to three.
The lead would last for 10 minutes as Girhiny scored his second goal of the night with only four minutes left in the second period, giving both teams three goals with a period left to play.
The third period remained a deadlock until Girhiny scored his third goal, giving the Badgers the lead.
An empty-netter in the final minute of the game by third-year left winger and Badgers captain Jaren Marino was the cherry on top, giving Brock its first win of the season.
The Rams will play the Badgers again in St. Catharines on Saturday.